Please Select the Destination Country or Region.
Please select country name
Door-to-door Shipping to More than 200 Countries and Regions All Around the World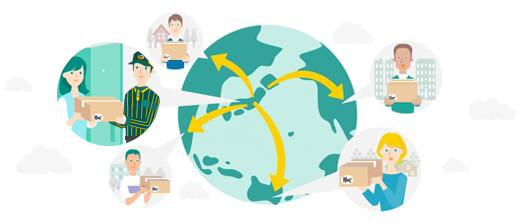 Send your parcels abroad from japan.
※

Percels are delivered by our trusted global pertners.

※

Depending on the country, parcels may be delivered to customers at the airport.
In such cases, Yamato Transport is only liable up until delivery to the airport.
Countries Where Personal Parcels cannot be Accepted
For the following countries, parcels other than documents cannot be handled when either the shipper or receiver is a private individual.
| | | | |
| --- | --- | --- | --- |
| Asia | China, the Philippines, Mongolia, India | North/Central America | Canada, Mexico |
| South America | Argentina, Paraguay, Brazil, Venezuela | Europe | Portugal, Russia |
| Middle East | Qatar, Saudi Arabia | | |
International TA-Q-BIN Rates and Available Sizes
Rates differ depending on the destination country and parcel size. For more information, please select the destination country or region.
Destination countries are divided into the following four zones:
| | |
| --- | --- |
| Zone 1 | Korea, Taiwan, Hong Kong, Macao, Indonesia, Malaysia, Singapore, Thailand, Vietnam, etc. |
| Zone 2 | Australia, New Zealand, America, India, etc. |
| Zone 3 | England, France, Germany, the Netherlands, Belgium, Switzerland, Austria, Italy, Spain, Turkey, etc. |
| Zone 4 | Regions other than those listed above |
In addition to the rate system from Size 60 to Size 160 for TA-Q-BIN, we offer the reasonable "Document Pack" for sending documents.
※

The maximum linear dimensions is 160cm and maximum weight is 25kg.
Document Pack
Only can be used for paper documents.
Paper documents sent together with other items such as floppy disks and CDs will not be treated as documents. Invoices are required.
Customs Tariffs and Other Fees
Customs fees and other fees may be incurred when parcels are imported into their destination country.
Customs tariffs and other views are at the discretion of the local customs and related authorities at the delivery location. Any fees which are incurred must be paid by the sender (you) or the receiver.
For more information, please select the destination country or region.
Minimum Delivery Times to Major Cities
Items Prohibited by International TA-Q-BIN
There are items which are prohibited in some countries (due to laws, treaties, etc.) and items which are prohibited in every country.
Prohibited Items by
Country
Items prohibited in every country
Please check "Items Prohibited by International TA-Q-BIN."
Parcels or personal items being sent to a lodger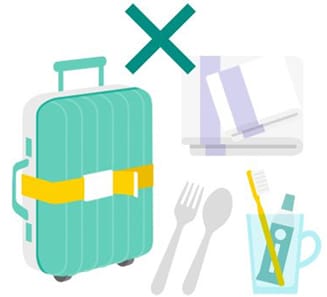 The following items cannot be handled: Parcels being sent to a post-office box, hotel or lodging facilities; personal items (parcels shipped separately) in conjunction with study abroad, foreign dispatch, travel, etc.
If these items are sent overseas, they will not be exempted from taxes. The items will be subjected to customs tariffs and other fees incurred for each destination country and item.
When sending personal items (parcels shipped separately), please use "
Study Abroad TA-Q-BIN."
Also, parcels cannot be sent to exhibition or event venues.
For fine arts items which require special packing and transportation, please contact below.
Sending Methods Available
How to Send International TA-Q-BIN
An invoice is required to send parcels.
An invoice is a certificate of parcel contents which is prepared by the sender when shipping parcels overseas.
Waybill with invoice can only be used by individual customers.
For corporate customers, please use an invoice in your company's format, or download the invoice format from below.
Corporate customers are required to fill in the corporate name and invoice number (customer's optional number) on the invoice.
The information written on the invoice and the actual contents must match. If a discrepancy is discovered via X-ray inspection or any other method, the invoice will be treated as a false declaration and parcels may be returned.
Invoices are also required for customs declarations. Therefore, please make sure to write the FOB (free on board) price on the invoice.
Please note that the sender may be contacted if no FOB price is listed.
(Prices in other currencies may also be listed together.)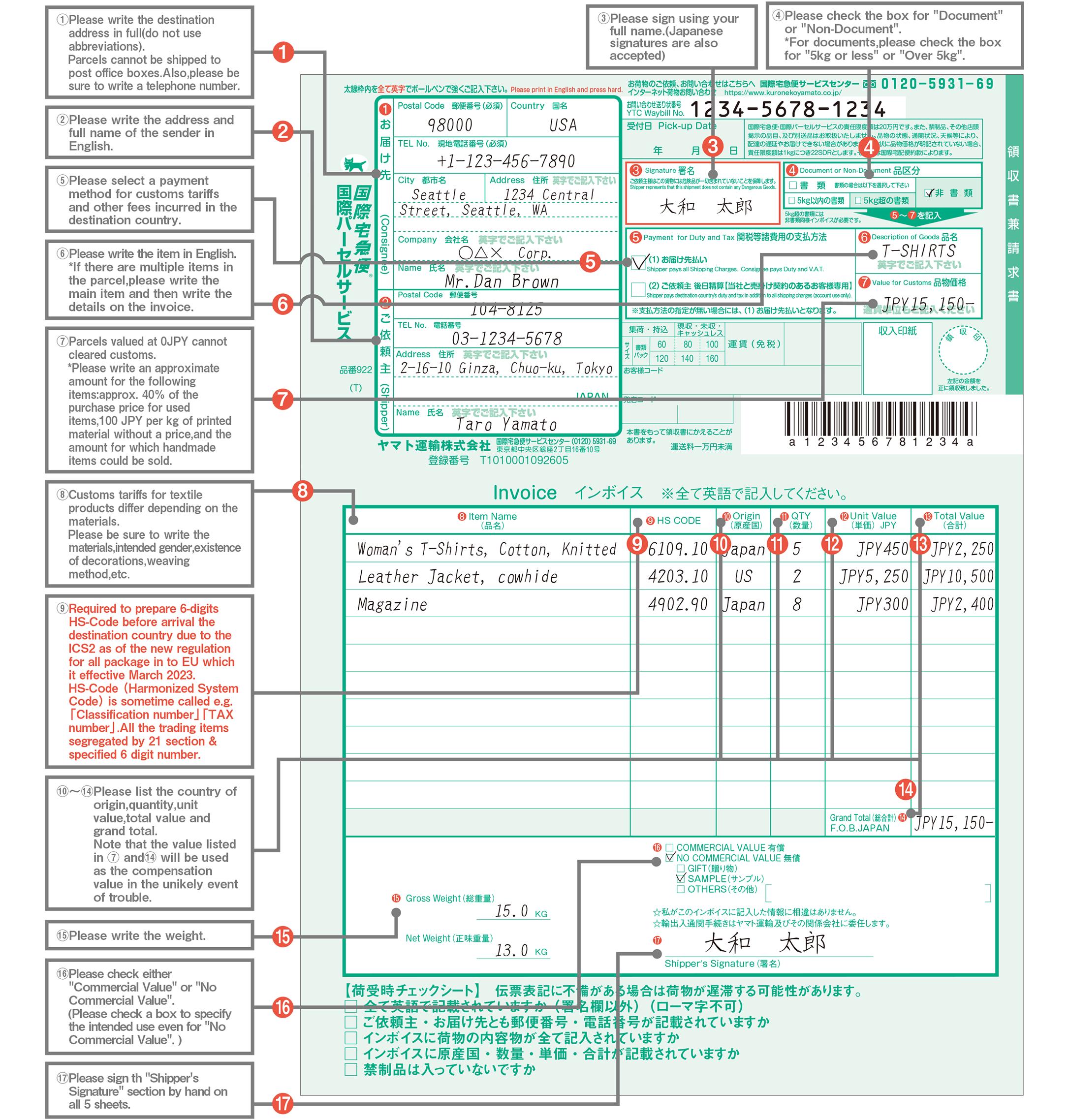 Depending on the destination country or parcel, special care may be required for invoices and other required documentation.
For more information, please select the destination country or region.
You can also obtain waybills at your nearest Yamato Transport Sales Office.
For customers who want to create a separate invoice
Invoice forms can be downloaded below.
Please prepare 3 copies each time a parcel is shipped.
Precautions regarding packing
International TA-Q-BIN is an air freight service. Appropriate packaging is required to ensure your parcel is not to get damaged.
If the packing materials used are extremely weak (e.g. plastic bags or soft envelope material), parcels may be returned based on the International Door to Door Parcel Delivery Service Terms and Conditions (Article 8-5).
How should I pack my parcel?
What is the best kind of packing material?
I want more information on how to send parcels and how to pay.
Depending on the destination country, other items may require special care in addition to those listed below.
For more information, please select the destination country or region.
Depending on factors such as parcel condition, customs status and weather, delivery may be delayed or be impossible.
Please note that the delivery time may change depending on customs inspections, etc.
Export and import customs are not performed on Saturdays, Sundays or local holidays.
International TA-Q-BIN is insured up to 200,000 JPY per waybill. However, when the product price is not listed on the waybill, insurance will be limited to 22 SDR per kg. (Excludes some cases)
When parcels are clearing customs at the destination country, depending on that country's import regulations and customs clearance procedures, special procedures may be required.
Please refer to International Door to Door Parcel Delivery Service Terms and Conditions for other precautions.
International Door to Door Parcel Delivery Service Terms and Conditions (PDF: 437KB)